The Best Fat-Loss Workout of All Time
The Best Fat-Loss Workout of All Time
What is the quickest way to shed weight, build lean muscle, and reveal a toned and sexy physique? The answer is simple: A combo of strength training and high-intensity interval training (HIIT). It's not revolutionary, but this regimen has been proven time and again to be the best training method to get a lean body in the least amount of time. You'll crush calories, build fat-burning muscle, and avoid plateaus.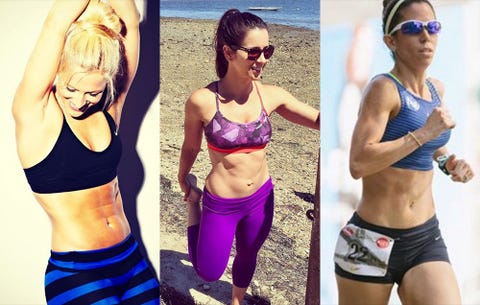 I'll admit that as a woman, I was hesitant to start lifting heavy weights. In my mind, weight lifting equated to a "bulky" and "thick" body. But I quickly learned that this couldn't be farther from the truth. Muscle is metabolically active, meaning that it burns calories even at rest. The more muscle you have, the more fat you will burn. Just remember that muscle is more dense than fat so don't rely on the scale to track your progress. You will see the amazing results in the mirror and feel them every time you pull on your skinny jeans.
This workout combines strength training and HIIT to give you a rock-solid core, lean legs, and defined arms.
You'll need: A pair of dumbbells (10-20 lbs), a jump rope.


How it works: Do 1 set of each exercise without resting between moves. Repeat the entire circuit 3 times. If you're short on time, you'll still get a great workout by doing 1 full circuit. For best results, do this workout 3 days per week. To make it more challenging, increase the weight for each exercise.
How to do it: Grab a pair of dumbbells with an overhand grip and hold them at arm's length in front of your thighs. Stand with your feet hip-width apart and your knees slightly bent. Shift your weight into one leg. Without changing the bend in your knee, bend at your hips and lower your torso until it's almost parallel to the floor (keep the weight as close to your body as possible). Pause, then return to standing. Your back should stay naturally arched during the entire movement. Do 8 reps each side


How to do it: Come into a lunge position with both knees bent. Make sure your front knee is directly above the ankle. Bring both arms back as you lower down into a lunge. Explosively, jump off the ground and switch feet in the air. Land softly in a lunge position with your other foot forward. Keep switching at a quick pace. Make sure to keep your chest lifted and swing your arms forward as you jump. Do 5 jumps per side.
How to do it: Grab a set of dumbbells and stand with your feet hip-width apart. Bend your elbows and bring the weights to shoulder height. Lower down into a squat by shifting hips back, like you are sitting in a chair. Come back to standing and press weights directly overhead. Lower the weights back to shoulder height as you immediately lower into your next squat. Continue the movement at a quick pace for 10 reps.


Similar to other jumps, this exercise burns calories quickly, keeps your heart rate up, and engages every muscle. Broad jumps will also improve overall athletic performance.
How to do it: Stand with your feet hip-width apart, knees slightly bent. Quickly extend your arms behind you while bending knees even more. Explosively jump forward (as far as you can) while swinging your arms forward. Land softly (by bending your knees) in a solid, athletic position. Try not to bounce or wobble at all and use your core to stay solid. Do 8 reps.

The Best Fat-Loss Workout of All Time